WP Engine Review – 2023
5 Reasons to Choose WP Engine for WordPress Hosting in 2023 From SEO Expert Jack Lombardi
WP Engine review based on my personal experience. I am the founder and CEO of Chicago Website Design SEO company (CWDSC). Because of my line of work, I have interacted with quite a number of WordPress hosts over time. If you use WordPress, then you know how important a reliable hosts is.
CWDSC chooses WP Engine for hosting client WordPress websites. While other WordPress hosting companies offer WordPress website hosting, WP Engine is a trusted international online brand that continues to serve us and our customers well. There are many WPEngine reviews online but I will give my WP Engine review and reasons for choosing this hosting service provider.
Read my WP Engine review to learn why WP Engine is our preferred WordPress hosting solution ~ SEO Expert – Jack Lombardi
WPEngine Background
Before I talk about all the features of the WP Engine, let us look at where the company comes from. WPEngine is a premium managed WordPress hosting company headquartered in Austin, Texas. It was launched in 2010. This makes it one of the oldest companies when it comes to managed WordPress hosts. Apart from being the oldest, the company has also added "biggest" to their name and this makes it one of the most popular managed WordPress hosting establishments. It is a privately held company and currently hosts more than 40,000 websites with most of them being reputable brands.
Get 3 months free on annual plans!
In my WP Engine review, I will dig deep into this WordPress hosting company and look at features and performance according to my experience. I might be a fan of WPEngine and its performance but this should not be a review spoiler since what I will write here are facts. We will start from the basics on our way up to the rather complex features.
WP Engine Account Setup
Setting up an account is not rocket science when it comes to this hosting company. To simplify a process that most people would find annoying, the company has created a detailed comparison table. This is where the lists of various plans are found.
Once you make a choice of the plan that makes business sense to you, you will choose the hosting location. The company boasts of data centers located in Australia, Belgium, US, UK, and Taiwan. I have looked at other providers and this is one of the widest choices you will get.
Apart from the hosting location, you can also select the monthly billing. If you are on a tight budget, I recommend you grab the welcome plus because it also keeps your options open. If you would like to take advantage of a discount, choose the annual plan. This takes two months off the payment thus reducing the total annual cost by 16%. The payment can only be completed through a credit card.
After the payment is done, you will be redirected to the Welcome Page which has links for your WP Engine account, the admin page for your WordPress site, and a site URL which is normally yourdomain.wpengine.com but can be redirected to your own domain.  
This page will also explain that your site is in the process of creation. The process will not take long. You will get an email inviting you to create a password for your account. Once you have completed this process, you will have access to your control panel and the default site. There will be another email with all your WP Engine login details and links to helpful support pages and tutorials. Now you have an idea of what WPEngine login and account setup is all about.
Creating A Site On WP Engine
Not a lot of WP Engine Reviews talk about the creation of sites but this is not a generic WPEngine review. Once you get on the dashboard, you will be welcomed by a clutter of mass alerts, messages, news items among many others. This might not be the best use of space but you can always use the settings to simplify your dashboard. I also learned to ignore most of these items.
If you tap a link to your new plan, a panel will display information about the PHP version, WordPress version, IP address, and domain. You also get a chance to view mini-graphs that indicate the storage usage, bandwidth and visitor histories. There might be complex terms that beginners will find confusing, but with the tutorials and support resources, you will soon understand them and the steps you need to take.

WPEngine Performance
Evaluation of the WP Engine is not all that easy. This is because it is not easy to measure, or see, the reliability or performance optimizations. However, once you have spent some time on the interface, you will start seeing the clues.
One of my company's main aims is to give clients a website that has low bounce rates and loyal visitors. The best way to achieve this is through super-fast page loading speeds. We have found this through WPEngine. When it comes to speed and performance, WP Engine takes home good points. The company takes advantage of its WordPress-optimized cashing system which results in a smooth-running site.
The use of Evercache technology helps sites work at super speeds. This is possible because they manage a combination of proxy and caching servers. The good news for webmasters is that there is no need to update or install anything to achieve these desirable speeds. The Evercache technology will ensure that your website is highly scalable when it comes to resource use and can comfortably handle traffic increase. The speeds can further be enhanced by some of the plans through offering Content Delivery Network.
To further boost site speed and performance, WPEngine will also spread the resource requests over different servers. This means that there is no single server that is overloaded. More good news, you will have an uptime of 99.99%. You can read across different WPEngine reviews and you will still find 99.99% as the average uptime. This simply means that in some months, you will not deal with any downtime. In my opinion, since this is a premium service company, they should provide this kind of uptime.
WP Engine Security And Backup
Keeping data protected from a potential threat is one of the major responsibilities of WP Engine. This is achieved through strong firewalls that receive updates on a daily basis. Apart from the general protection, the security experts also scan your website regularly to check and eliminate any form of malware threats. In case there are security risks, you will be informed. This applies to emergency maintenance as a result of issues in the data center or security updates of plug-ins.
WPEngine security is top of the class. I like the fact that they automatically set you up with a free SSL/TLS certificate regardless of the plan you choose. Having the SSL/TLS certificate will ensure that your site is secure and will come with an added benefit of enhancing your Google ranking.
Backups are important because they are a form of data protection. WP Engine has automated daily backups that ensure you have support for your website's critical applications. You will also get staging as a premium feature. This is a process that creates your site's mirror image. This gives you a chance to experiment on the image and test for bugs without changing your main site. You will have the advantage of exploring your site.
Personally, I value customer support more than anything. This is because no matter how good the services are when clients need support, they should be in a position to access the team responsible. To ensure that you and other clients are attended to, WPEngine has over 125 full-time support experts. These employees work in shifts around the clocks. This ensures that your issues are solved when they arise.
The experts in the support team are in the US and they are well-versed to provide the perfect solutions to all hosting issues. If you would like to give them a call their number is +1-512-827-3500. There is also a Zendesk-based ticketing system. You can also use the live chat for technical and sales issues. This option will give you replies in a short period.
WPEngine Control Panel
At first glance, I thought the admin panel has a user-unfriendly interface. If you have been using the standard cPanel, you will need some time to grasp the WP Engine control panel. I will point back to their extensive support material and tutorials which will help you through the learning process. It is easy to make backups and restore your website with the "one-click restore option".
WPEngine Pricing
WP Engine is a premium service that comes with different plans. Here are the plans and their costs:
StartUp Plan – This plan starts at $35 per month and covers one website and three environment site. This plan offers CDN, SSL, on page performance and free website migration. If you have a small business or blog that handles about 25,000 monthly visitors, you can start here.
Growth Plan – This plan starts at $115 monthly and covers 5 websites and 3 environment websites with 100,000 monthly visitors. The plan comes with CDN, SSL, 200 GB bandwidth, page performance tools, and free website migration. This plan is fit for growing businesses which explains the name.
Scale Plan – This is the most expensive plan and starts at $290 per month. It covers 15 websites and 3 staging sites. It comes with 400 GB bandwidth, free website transfers, page performance and can handle large sites with 400,000 monthly visits.
The plans come with a 60 days risk-free guarantee and choosing the annual prepay option will give you 2 free months.
Benefits Of WP Engine
99.99% uptime

Money back guarantee for 60 days

Helpful support around the clock

Free site migration

Development and stating website

Free CDN and SSL certificate

Automatic backups

PHP 7 Ready

Pager performance

No hidden fees

Automatic WordPress Install

Built-in Performance

High Speeds
In Conclusion: Is WP Engine Worth Your Money?
WPEngine is one of the biggest names when it comes to managed WordPress hosting companies. They offer premium services that come with solid performance and developer-friendly spaces.
You cannot go wrong with choosing WPEngine. I have highlighted some of the most important features and I know you will find much more.
Why we choose WP Engine to host our client WordPress websites
The WP Engine Brand
WP Engine has a history of being one of the better brands of web hosting services on the market. They currently host websites for over 70,000 customers in 120 different countries. To back that up, data suggests that 5% internet users visit at least 1 website hosted by WP Engine daily. Considering the number of people using the internet in a given day, it is an impressive indicator of WP Engine's ability to maintain service with a large flow of online traffic. To keep up with that traffic they have data centers located around the globe to support their websites and offer faster loading times.
Safety and Security
WP Engine has kept our websites safe and secure from online attacks and hacks. Every website depends entirely on a system to keep it functioning as well as to keep its data safe from viruses and online bugs. Did you know that WP Engine hosting blocks somewhere over 2 million web attacks every day? Websites hosting is made safer with multiple firewalls as well as state of the art threat detection.
Trusted By Big Names
WP Engine isn't only for small businesses. Big business leaders like PBS International, National Geographic, and Yelp all have their websites hosted by the WP Engine. We are able to offer the same services that are used by the big names for ourselves and our clients.
Around the Clock Service
Website hosting comes with a responsibility to consumers. Marketers need websites to be functioning 24/7 without fail. If you choose WP Engine as your WordPress website host, you will find yourselves with a team dedicated to keep WordPress websites up and running. We enjoy having a full-time engineering staff dedicated to keeping websites running. In addition, are dedicated to innovation and new online technology.
It's the WordPress Website Hosting System Made for Everyone
WP Engine hosts WordPress websites for everyone, whether you are creating a personal site or a business website, they have options. Both small and large online projects can find quality website hosting with WP Engine. Website owners and marketers are able to add storage, installations, and applications to their websites with reasonable prices. Not to mention their back-up systems for those applications are simple and secure.
When choosing a host for your website, consider WP Engine. Move your site to WP Engine in less than 30 minutes
WP Engine Review 2023 by SEO Expert Jack Lombardi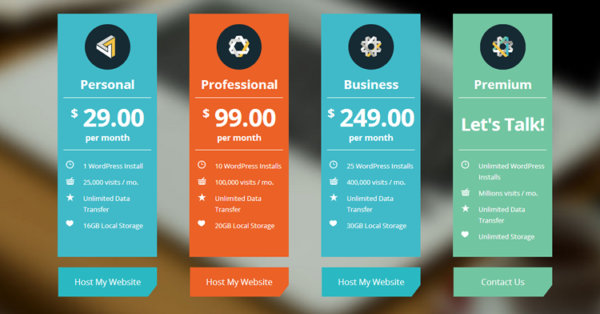 Read my WP Engine review to learn why WP Engine is our preferred WordPress hosting solution ~ SEO Expert - Jack Lombardi
Price: 29.00
Price Currency: USD
Operating System: WPEngine
Application Category: Hosting
Pros
Performance
Second to none customer support
Uptime
Speed
24/7 support
Trusted by big names